THURSDAY, JUNE 2th
illustration, special edition by Rita Cortês
DRAWING WORKSHOP
Workshop conducted by Rita Cortês
The students from Escola EB 2,3/S José Gomes Ferreira join the Giacometti Festival by participating in the Drawing Workshop conducted by Rita Cortês. Specialized in Scientific Illustration, recent winner of the International Prize of Scientific Illustration and of Natureza Illustraciência, she will share her knowledge and professional experience with students from the 6ºC, the 8ºC and some from the EEspecial.

This workshop is the result of a partnership between Ferreira do Alentejo's School Group and the National Arts Plan.

The first session will take place from 11h to 13h. And the second one from 14h to 16h.
(1st) 11:00
(2nd) 14:00
Escola EB 2,3/S
José Gomes Ferreira
workshop
art
illustration, special edition by Rita Cortês
Edible plants that heal us
Exhibition
Discover the medicinal and gastronomic properties of the wild field plants that grow in the municipality of Ferreira do Alentejo!

MUNICIPAL MUSEUM
.

Ferreira do Alentejo
exhibition
art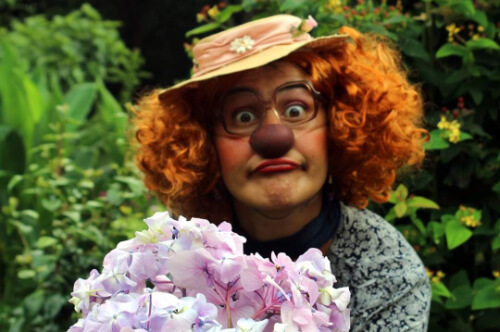 Pimpinella
Performance by Clowntinas with Eva Ribeiro Clown and Music by Cláudia Alves
Pimpinella is a traveling florist. Passionate about songs and flowers, she meets the public on the street, aboard her cart: a musical garden!

Appealing to the sensorial world, Pimpinella uses different objects that sometimes perfume the air, sometimes bring sweetness to those who pass by her.
Composing verses from texts collected in Jorge Sousa Braga's "Herbário", Pimpinella makes us dive with humour into the world of plants, evoking popular songs that refer to the universe of medicinal plants and flowers accompanied by her accordion or her musical bells.

Specialist in the art of improvisation, Eva Ribeiro, plays throughout the show with the elements she finds along her way, conquering her audience wherever she goes.
18:30
MUNICIPAL MUSEUM
.

Ferreira do Alentejo
art
performance
photo Vitorino Coragem
GrÃo : cOnTrA_TemPO
Concert / Performance / Installation
by Maria do Mar
Chants, water, flowers, leaves, earth, seeds, animals, utensils, fabrics... From the living memory, recorded and offered by nature, this transdisciplinary work is made in homage to Michel Giacometti and the people of Alentejo.

In the hinge of artistic experimentation and popular tradition, opening an involvement with the local population, the instrumental performance (violin and violet solo) uses new technologies (computer, field recordings, video), drawing the tracks of something that, like time, is ephemeral.
21:30
SQUARE in PEROGUARDA
.
PRAÇA PROF. JOAQUIM ROQUE
art
performance
music
concert